"E-Kit Mini-Contest" in 2022 - Winner Announcement
Contest Background
This year, we opened the entries for our E-Kit Mini-Contest for the first time and are delighted to announce our six winners! The contest collaborates with the Hit Like A Girl contest (Los Angeles), whose website received all entries. As the title suggests, playing an electronic drum kit was the premise of participating in the competition. The entries were judged within the two age groups < 18 and 18 + by a specially selected jury of four drummers. As female drummers are still underrepresented in the community, the E-Kit Mini-Contest and Hit Like A Girl have the mission to support female drummers and beatmakers only. Please find out more about the winners, prizes, jury, and the Hit Like A Girl Contest in the following!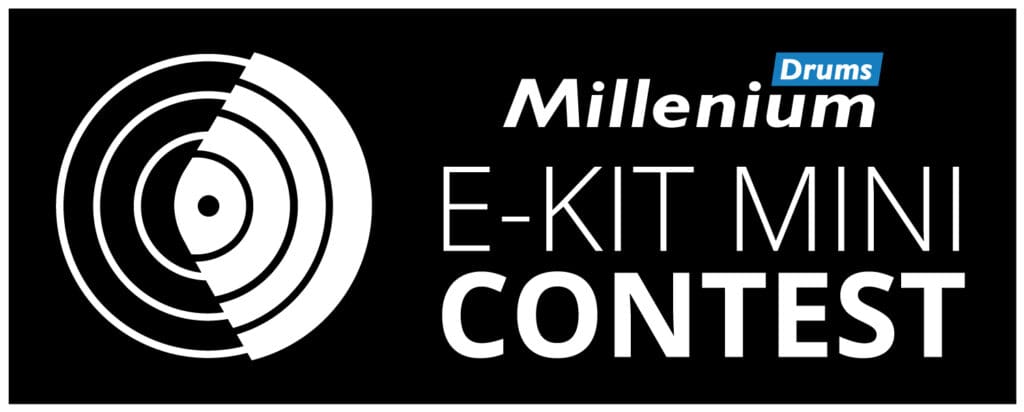 Our Winners
The drumming community of the Hit Like A Girl Contest is very international; and so are our winners reaching from New Zealand to the UK. In the following, we would like to introduce you to the six winners with three recipients each in the over and under 18 age group. The prizes per win are the same in both categories: a NonaPad for the first place, a BlackBox Cajón for the second place, and three percussion instruments including a tambourine, a strawberry shaker and sticks for the third place.
Age Group < 18
Congratulations to Naru Ikarashi from Japan, who won the first prize (NonaPad), Sora Fujii, from Japan, for the second place (BlackBox Cajón), as well as US-based Sunny Chandrasekhar for place three (tambourine, shaker, sticks).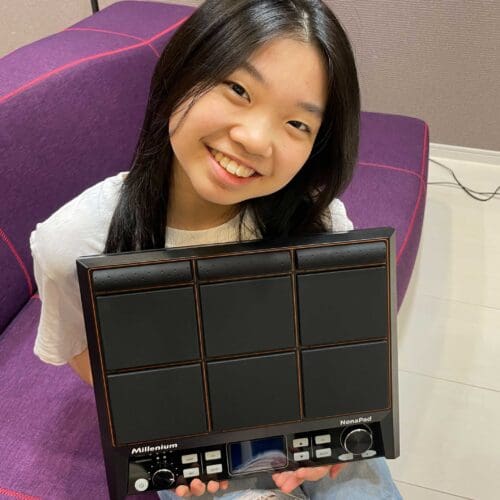 Naru Ikarashi
Naru Ikarashi
Naru (first place) is twelve years old and has been playing for three years. She discovered her drumming passion through video games at the arcade. Right after she started playing, an e-drum set was purchased and placed in the kitchen so she could practice whenever she wanted. As her sister plays guitar, they sometimes play together at home.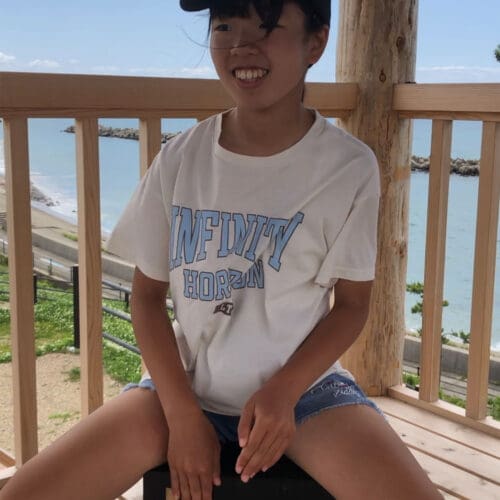 Sora Fujii
Sora Fujii
13-year-old Sora (second place) started playing at the age of six. Her most favorite and inspiring genre is rock music due to the confidence and motivation that emerges while she's playing hard rock songs. Since she wants to play on a huge stage in the future, she practices very hard every single day to become better and better and to realize this dream.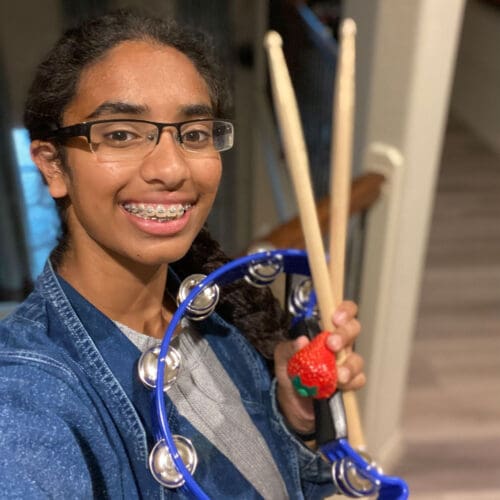 Sunny Chandrasekhar
Sunny Chandrasekhar
Sunny (third place), 14 years old, has been playing for five years. Recently, she started a drumming Instagram and YouTube channel. Posting drum content is a lot of fun for her! She's a huge fan of Snarky Puppy and their drummer Larnell Lewis as well as of YouTube videos from ZackGrooves, Casey Cooper, Brandon Scott, and Kristina Schiano.
Age Group > 18
Kōkako Drums from New Zealand, recipient of the first prize, UK-located and second prize winner Megan McGuinness, and last but not least, Gizem Dal from the United States on the third place – of course, congratulations to you, too. In this age group, there are two second-prize-winners!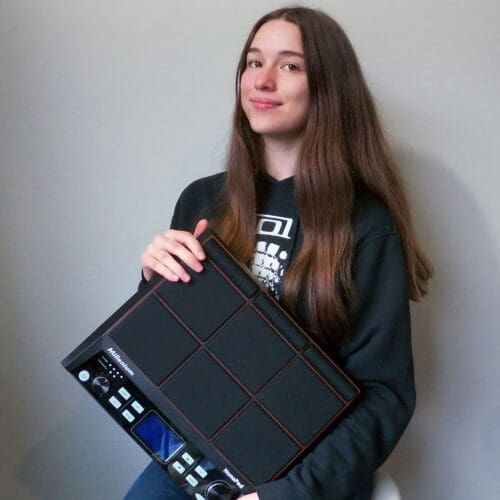 Kōkako Drums
Kōkako Drums
Kōkako Drums is a teenage drummer from Aotearoa, New Zealand. Six years ago she started learning the drums and enjoyed it so much that she decided to study music and drum performance at university to improve as much as she can. She mostly plays rock and metal, but lately she's been enjoying jazz and branching out into other genres, too.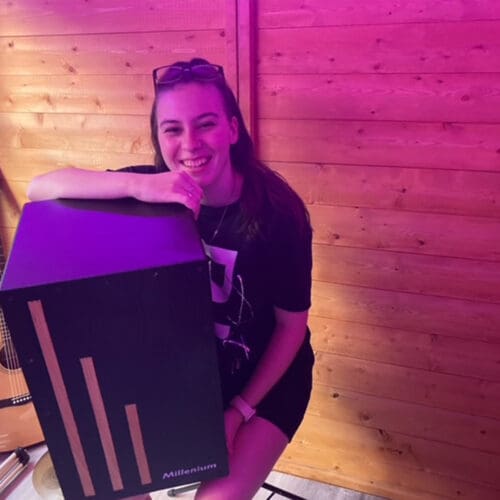 Megan McGuinness
Megan McGuinness
Megan's a 19 year old drummer from United Kingdom. She loves playing pop music by artists such as Maisie Peters, GRACEY, Mae Muller, or Little Mix. She also enjoys playing rock, funk, and disco music. Drumming and performing are something that she wants to try and pursue as a professional career. She strongly hopes to achieve this the future.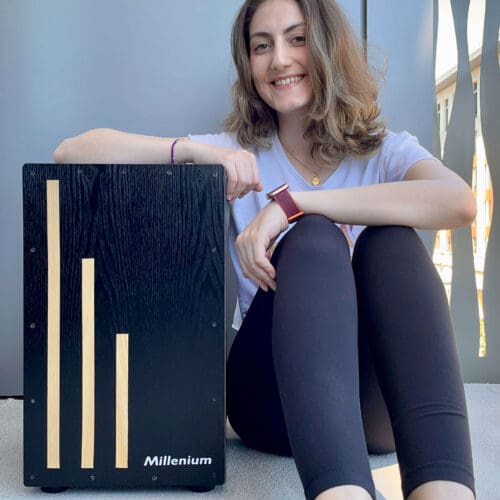 Gizem Dal
Gizem Dal
Based in San Francisco, software engineer Gizem is a drummer by night playing for seven years. She's a huge fan of rock music in various forms from bands such as RHCP, Bon Jovi, or The Doors. Some of her biggest drumming influences include Chad Smith and Anika Nilles. She also recently started an Instagram profile to share short drum covers.
Jury
Four judges out of the Hit Like A Girl drumming community picked the winners of the "E-Kit Mini-Contest".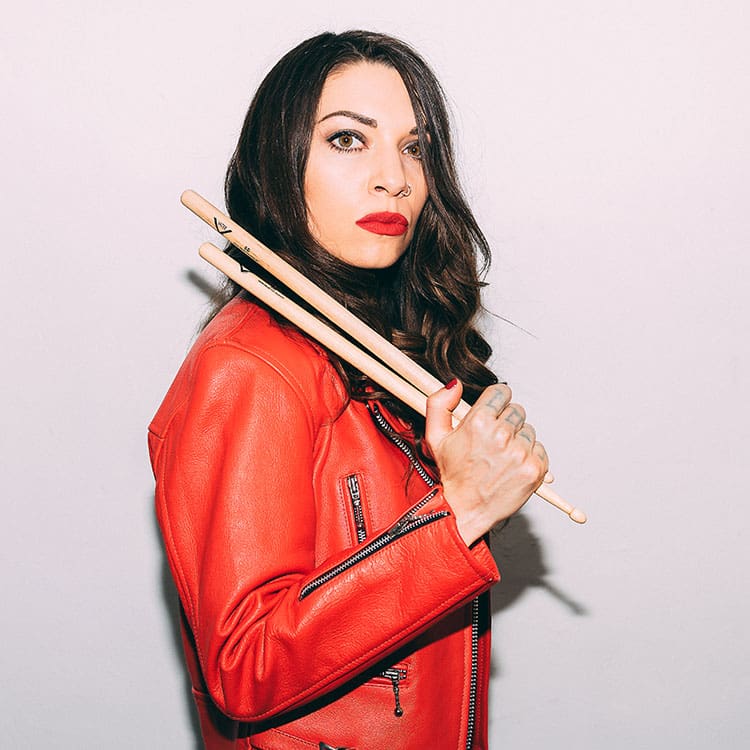 Jessica Goodwin
Raised in Las Vegas, Jessica now lives in Los Angeles where she plays with the bands DREAMERS, Big Black Delta, Zachary Kibbee, or Wind River Revival, among others; touring US, Canada, Europe and the United Kingdom. Her musical journey began in her school band. Later on, she studied Percussion at the Las Vegas Academy of Performing Arts high school. On TV and advertising, she was seen in a national TV spot from wish.com, was part of the Drum Off campaign from Guitar Center in the US, and played with Troye Sivan at the talk show Ellen DeGeneres.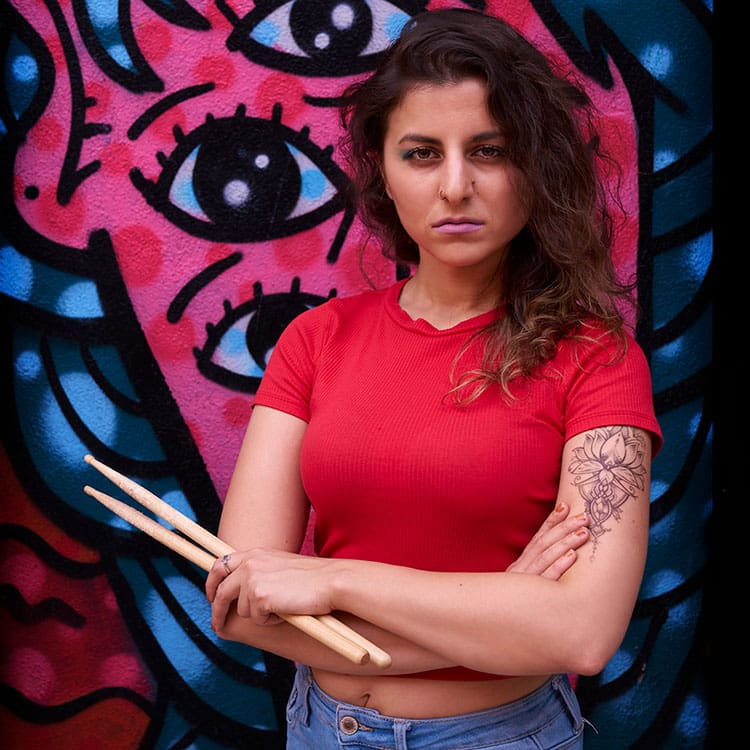 Mirna Ayshoa
Influenced by and combining rhythms from the middle east and west, Mirna – originally from Iraq – moved to Colorado, US, where she works as a session musician with a focus on Rock and Metal; always open to other genres. Especially because of her unique background, she represents a strong message. She's more than certain that there are no differences in ability and skills of drummers due to gender. Further, Miran could already be seen in DRUM! Magazine and at organisations, e.g. the Percussive Art Society (PAS).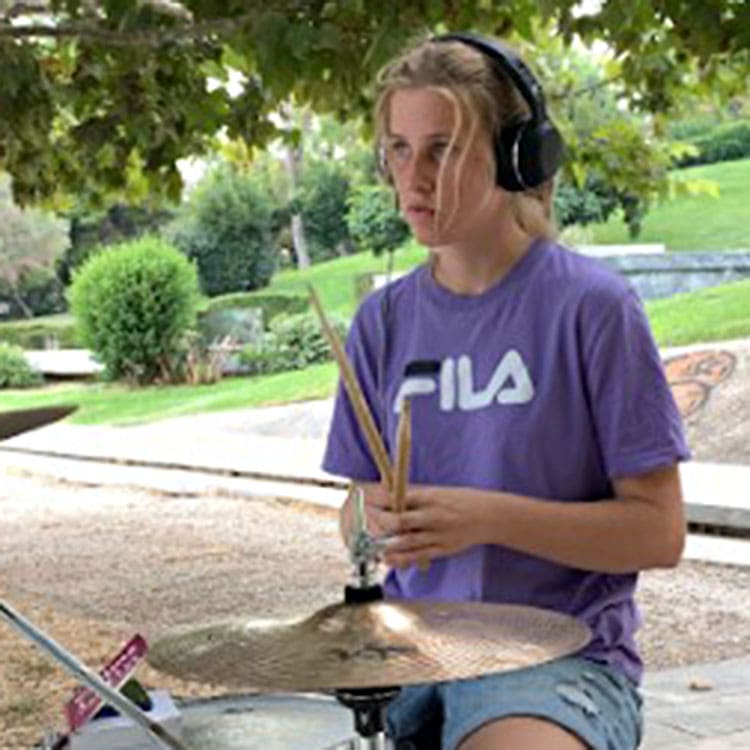 Mya Cymbal UK
Drumming is part of her life since the day her father put her behind a drum set. For four years she took weekly lessons for her fundamental drumming knowledge, pointing out that she grew the most, when she practiced on her own in the garage. YouTube videos and independent experimenting helped her to push her drumming to the next level. During the lockdown she launched an Instagram account to document her progress and to connect with other drummers for mutual inspiration.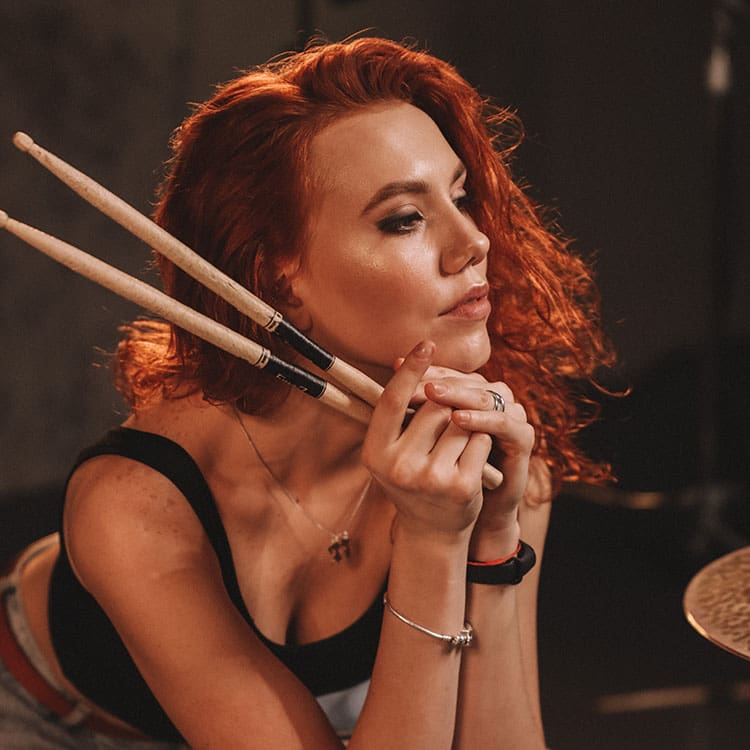 Victoria Danilevskaya
24-year-old Victoria originally comes from the small town Rostov-on-Don in Russia. She started playing at the age of twelve and visited the Pop- and Jazz-department of an arts school. Victoria loves to play all different kinds of styles. However, her favorites are Jazz, Pop, Fusion, Rock, and Funk.
"I have been actively performing on stage since I was 15 and have had the opportunity to play in more than 40 bands, 2 orchestras and about 10 Russian and International contests. Now I play concerts as well as sessions. I'm also a teacher at two music schools and privately."
Hit Like A Girl Contest
Launched in 2011, Hit Like A Girl is an international drum contest, as well as advocacy organization which addresses to female drummers, percussionists, and beatmakers. So far, it attracted more than 6000 participants from around the world who increase the visibility and hence the voice of the female drumming and beat-making communities. The founders created and implemented the concept of showcasing and encouraging lifelong musicianship for girls, women, and gender-expansive individuals, regardless of characteristics like age, skill level, or geographic location. The happening is produced by Hit Like A Girl, Inc. and made possible by the generous support of music industry's artists, individuals, and companies.