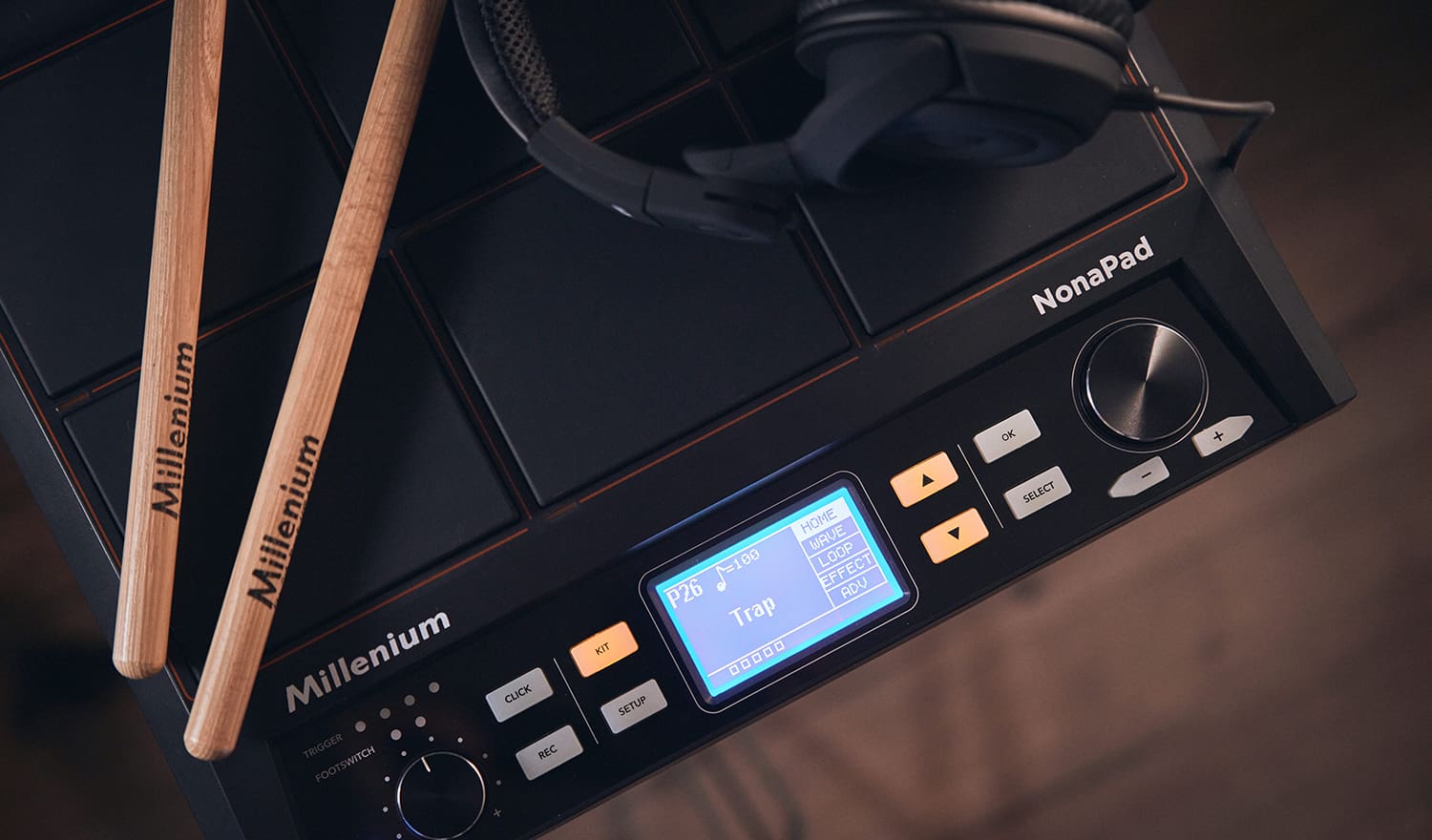 Frequently asked questions
Want to find out more about Millennium Drums? Here are the most frequently asked questions
All e-drums kits can also be set up for left-handers. Simply set up mirror-inverted, plug in and you're ready to go!
---
Mesh Heads are a special type of pad with a two-layer mesh surface and a unique 45-degree weave pattern that makes them extra quiet.
---
This is the electronic transducer that registers the beat of your stick and sends the signal via a cable to the sound module.
---
The "brain" of your drum kit. Its main task is to convert the beat of your stick into sound. Depending on the device, the modules have even more possibilities: You can shape your sound with effects and virtual instruments, and play backing tracks.
---
Both wood and nylon tips are great. But be aware that chipped wood tips can damage your mesh heads.
---
Thanks to the headphone option, e-drums are much quieter than their acoustic counterparts. The only thing your neighbours might hear is the soft tapping of the pads. However, there is still the option of running your drums through an amplifier for an authentic feel.
---
No, unfortunately, that is not possible. No matter whether mesh head or rubber head, our drum heads are not configured to pick up the delicate wiping sound of brushes.
---
The solution is actually quite simple, just try another USB stick or check again if the files are really extracted!
---
Yes, if you want to use the latest functions and settings. We regularly update the module's "firmware" to offer new features or settings. To check the latest firmware for your product, go to the product page, click on "more information" and look at the "Downloads" tab.
---
MPS-150 / 150X : no
MPS-450: yes (Crash 2 + Tom 4)
MPS-750X: yes (Ext 1 + Ext 2)
MPS-850: yes (Crash 2 + Tom 4)
MPS-1000: yes (Crash 2 + Ext)
Please keep in mind that pads from other manufacturers may not be compatible with your module.
---
MPS-750X: with PC or Mac via Updater
MPS-850: USB stick with upgrade file: press buttons [KIT] and [SONG] while turn on the drum module
MPS-1000: with PC oder Mac via Updater
NonaPad: [SETUP] -> UPDATE -> OK
---
MPS-150(X): press buttons [<] and [>] while turn on the drum module
MPS-450: press buttons [<] and [>] while turn on the drum module
MPS-750X: [SETUP] -> [RESET] -> All
MPS-850: press buttons [<] and [>] while turn on the drum module
MPS-1000: [SETUP] -> [RESET] -> All
NonaPad: [SETUP] -> [RESET] -> OK
---