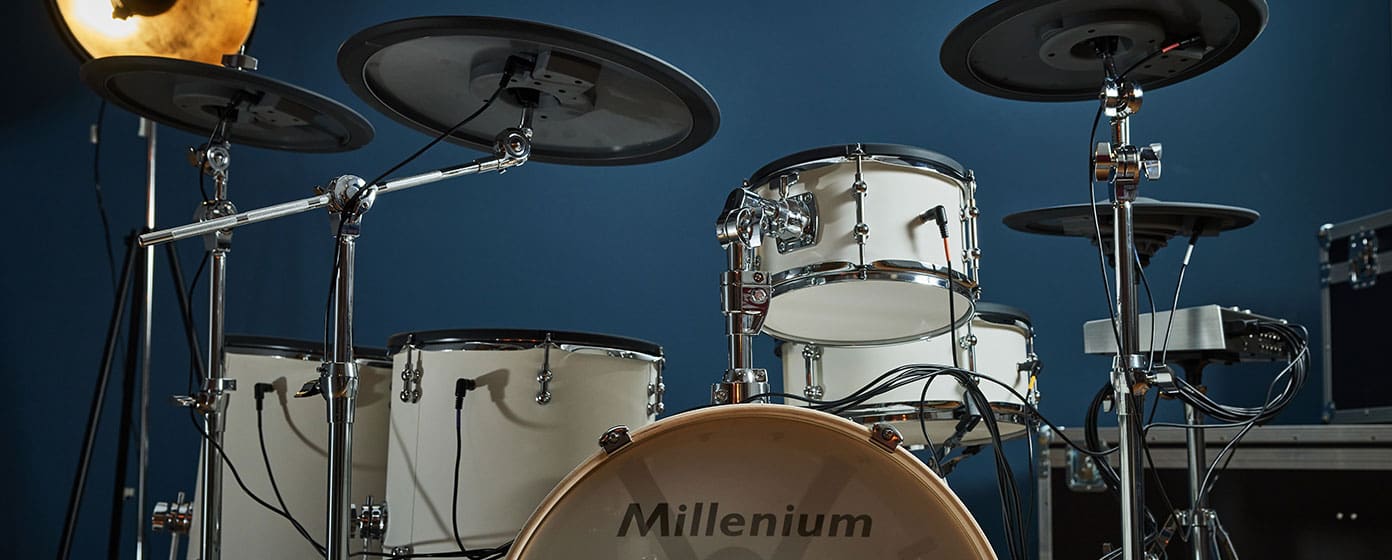 Products
Electronic Drums
MPS-1000 new "1-up, 2-down" configuration & new finishes
We are pleased to announce that the MPS-1000 is now available in a brand new "1-up, 2-down" configuration. The MPS-1000 is our flagship electronic drum kit and one of our most popular models. It features full-size wooden drum shells that perfectly simulate the look and feel of a "real" acoustic drum set.
The new "1-up, 2-down" configuration of the MPS-1000 comes with one rack tom (10"x06") and two floor toms (14"x14", 16"x16"). This kind of setup has been used by many well known rock drummers over the decades. One advantage is the freedom in placing the ride cymbal closer to yourself. Needless to say, personal preferences also play a major role when deciding for one of these variations.
Kick and snare are the same as with our classic "2-up,1-down" configuration and come in sizes of 20"x16" and 13"x5.5". All drums are equipped with dual-ply mesh heads to provide an authentic rebound and duarbility. And also the cymbal set is the same as with the original version of the MPS-1000. It includes a a 13" hi-hat, two 15" crashes, and an 18" triple zone ride.

Apart from all that, the new "1-up, 2-down" configuration of the MPS-1000 is available in two beautiful new finishes. "Plain White" creates a clean and neutral vibe, while the "Natural" finish even strengthens the impression of acoustic drums. These kits will shine on stage as well as in your living room or rehearsal space.