Play the drums anywhere, anytime
Our MD-90 offers seven velocity-sensitive pads in an ultra-compact package that fits into any suitcase. It comes with two foot switches for playing bass drum and hi-hat sounds. The module offers 50 drum kits, five of which are freely programmable. It also includes 100 practice songs and play-along patterns. The integrated metronome and recording functions are essential tools for practicing. And we've even included a pair of drum sticks, so you can start playing right away.
Check price at Thomann
Drumheads material
Rubber
Cymbals
Beckenpads plus Hi-Hat Pad
2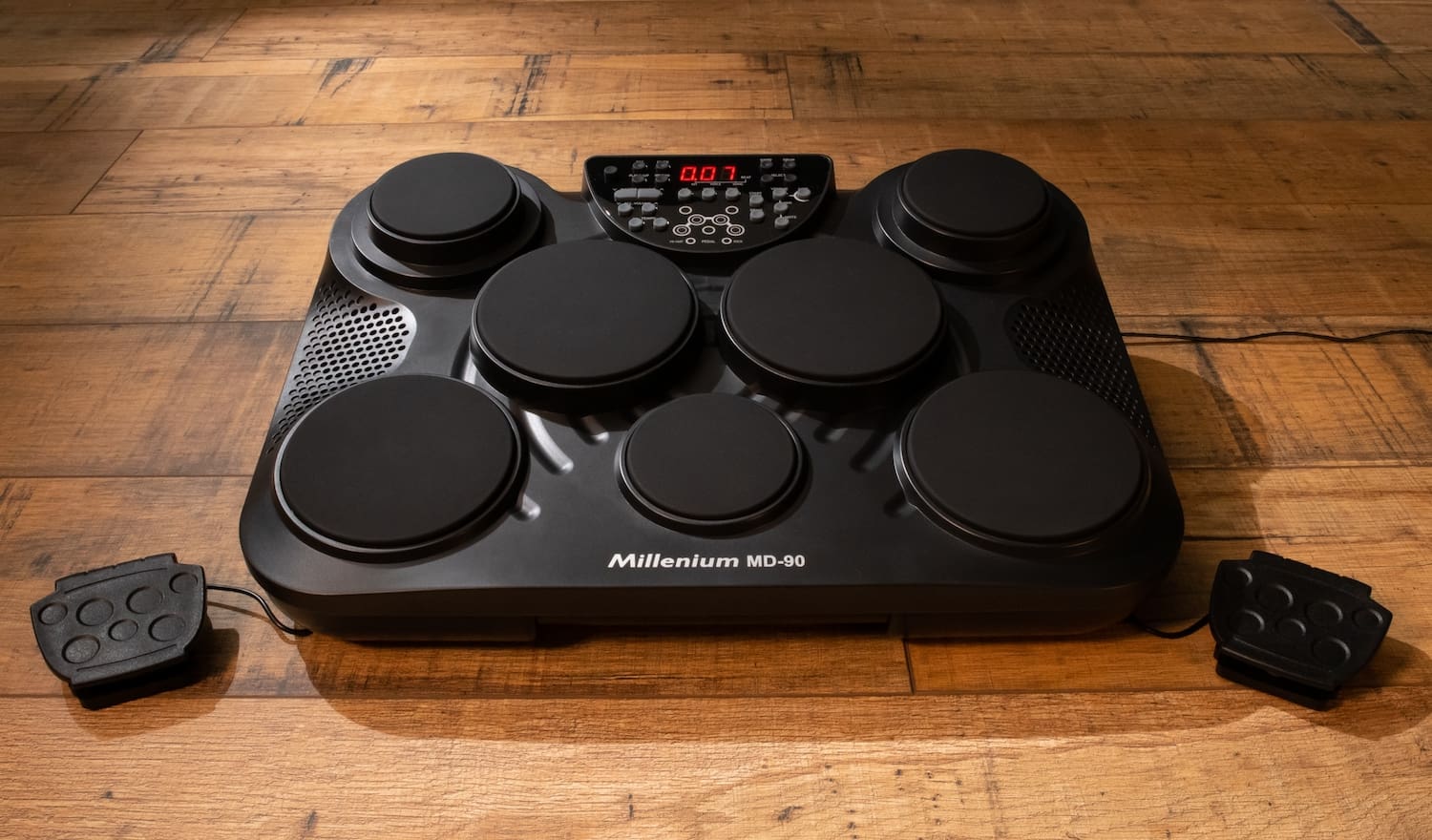 Perfect for the spontaneous jam session
With its sturdy plastic enclosure, the Millenium MD-90 measures only 50 x 37 x 15.7 cm and weighs just over 3 kg. You won't find a more portable drum set anywhere! And it runs on batteries or the included power supply, so you can truly play anywhere. With the integrated loudspeakers and 265 sounds, the MD-90 is ready to jam. And you can use the USB port to connect it to your computer and record drum tracks.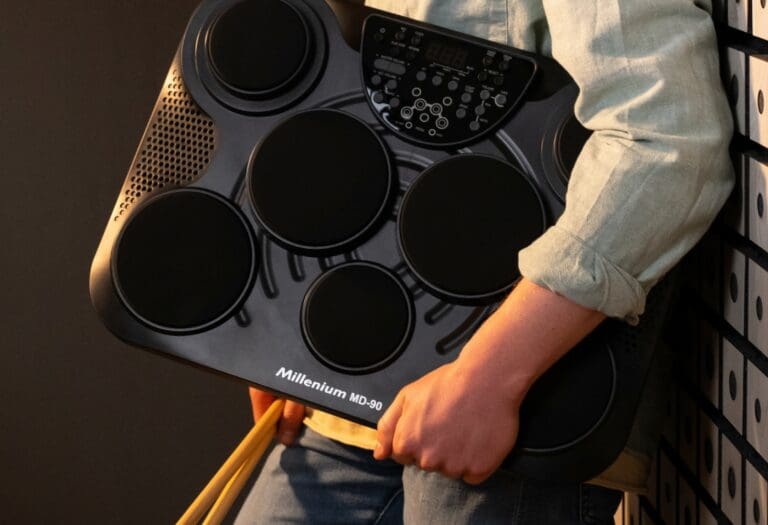 Great for beginners
If you're passionate about playing the drums, but aren't sure if a "real" electronic kit is right for you, the MD-90 is a very affordable way to discover the world of drumming. The seven pads are velocity-sensitive and offer an excellent playing feel thanks to their rubber surfaces. And while foot switches aren't made for complex patterns, they can help to improve your hand-foot coordination and enable you to play most standard grooves.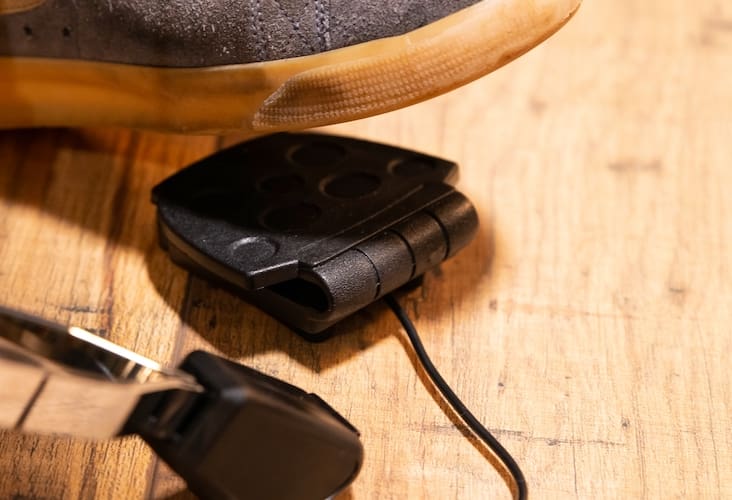 All you need to practice and have fun
With 265 sounds from a wide variety of styles, you're ready to master any musical situation. Acoustic drums, electronic drums, percussion and even melodic sounds like vibraphone are all part of this ultra-compact kit. You can use the 45 preset kits or unleash your creativity by programming kits of your own.
There's no need for additional devices, as the MD-90 comes with numerous integrated play-along songs. And if you want to expand your sonic possibilities even further, you can do so by connecting the kit to a computer via USB.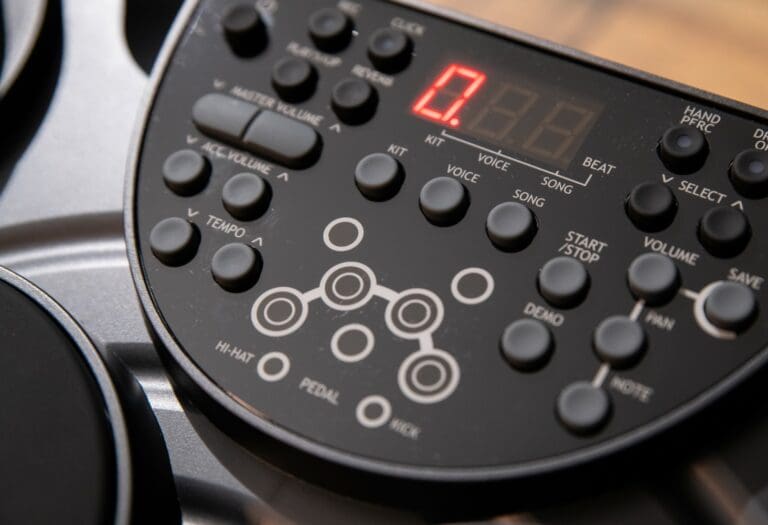 Technical specifications
7 Velocity sensitive drum pads

265 Percussion/drum sounds

45 Permanently programmed preset drum kits

5 Individually programmable user kits

100 Stored preset songs and 1 demo song
Kick and hi-hat button input

Headphones

USB 1.0/2.0 interface (MIDI IN/OUT) available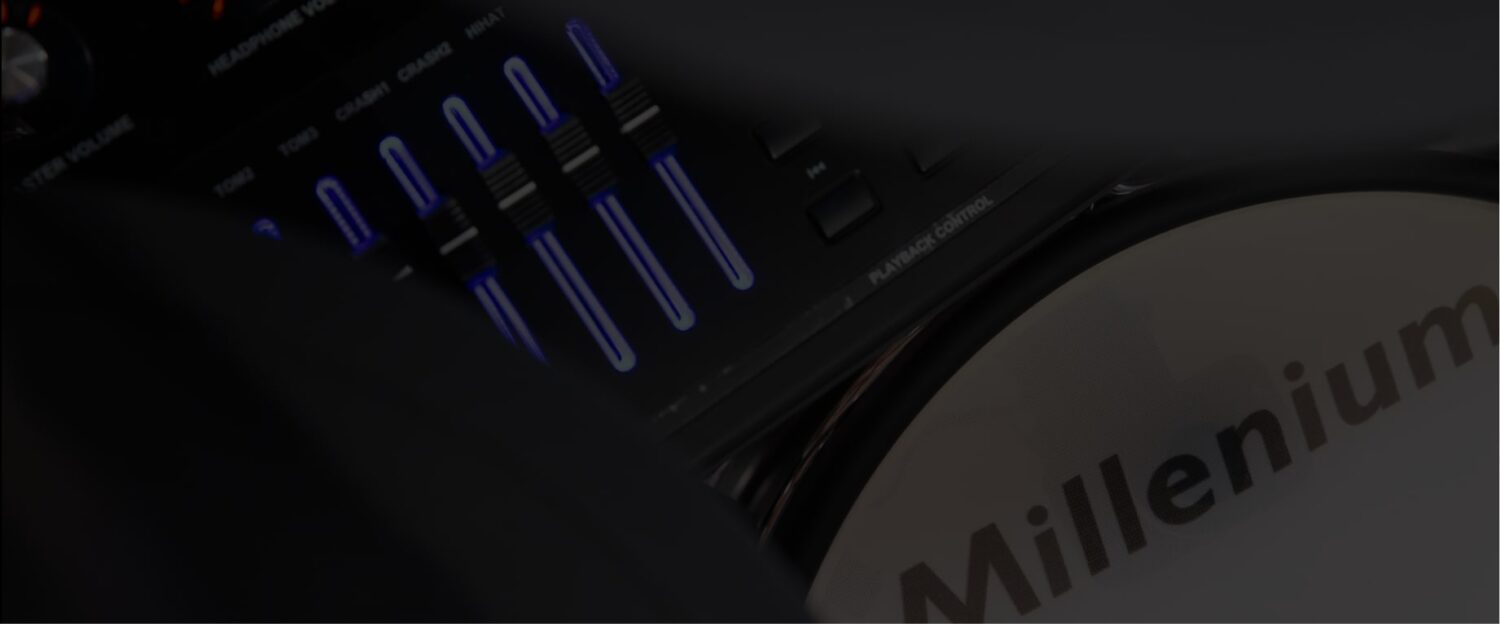 Sound Check | MD-90
Check out this Soundcheck video for the MD-90 and hear the awesome samples included with the kit.
See All Videos
You may also like these
MPS-1000 E-Drum Set

MPS-850 E-Drum Set

MPS-750X E-Drum Mesh Set

MPS-150X E-Drum Mesh Set