Focus on playing
The Millenium MPS-750X E-drum kit meets the highest sonic expectations at an affordable price. In addition to nearly 700 sounds, which you can tweak to your heart's content and add effects using the integrated faders, the Bluetooth interface allows you to play along to your favorite music, without cables getting in the way. Thanks to the large diameter of the mesh head drum pads and cymbals, you won't feel much of a difference to an acoustic drum set.
Check price at Thomann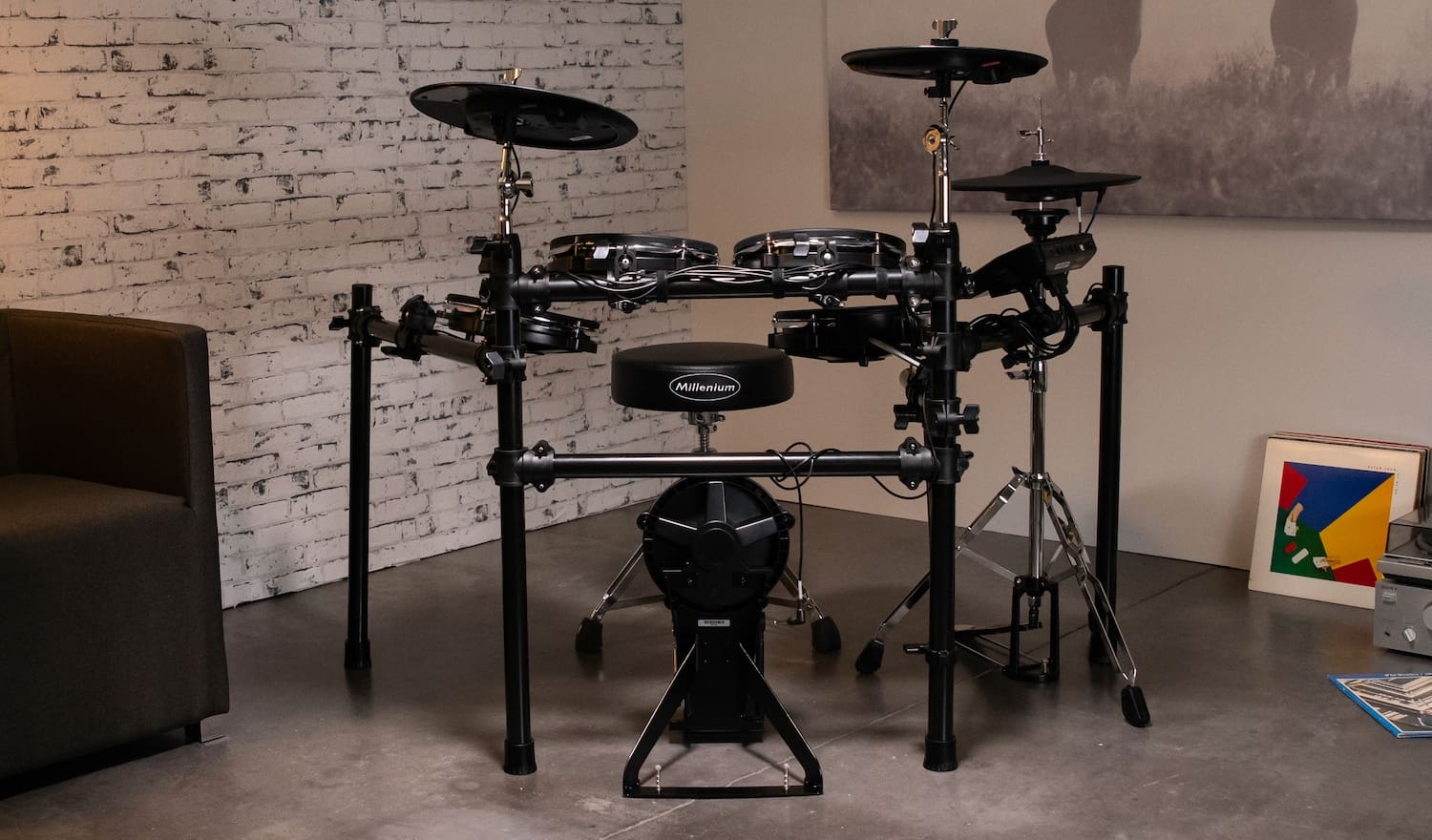 Simple operation despite numerous features
Despite its many features, the MPS-750X is extremely easy to use. It comes with 20 drum kits loaded with acoustic and electronic sounds, so you can start playing right away. 20 additional user kits are available for your own creations. Drum along to the 55 included songs, which you can easily adapt to your level of playing. The compact dimensions of 140 x 80 cm (55 x 32 inches, not including the seat) are perfect for playing in your flat or apartment. Thanks to the mesh heads, you can enjoy an authentic playing feel without disturbing your neighbors.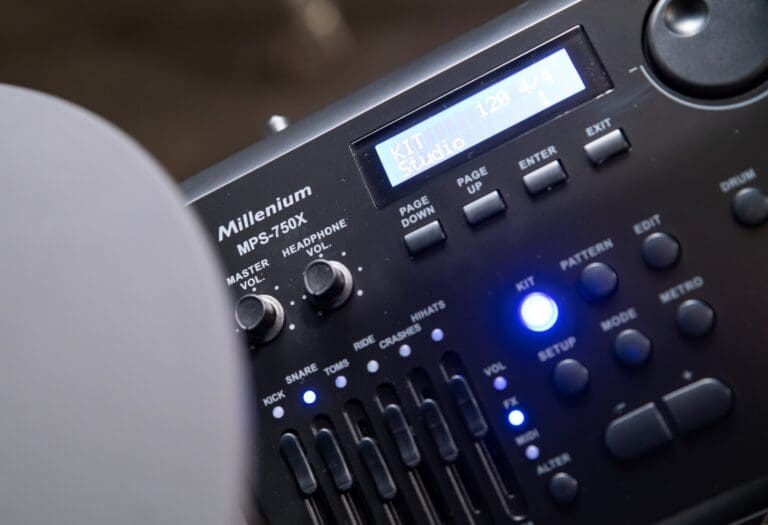 Authentic drumming, minus the noise
The MPS-750's drum and cymbal pads are very close in diameter to "real" drums and cymbals. For an authentic playing feel, the 13" hi-hat is mounted on a standard stand. The 12" crash and 14" ride are equipped with two rsp. three trigger zones, which allow for authentic transitions.
The mesh heads, which are fitted to all drums, are quiet and provide a smooth, soft rebound. They also vibrate less than rubber pads, which is easy on your joints and prevents fatigue.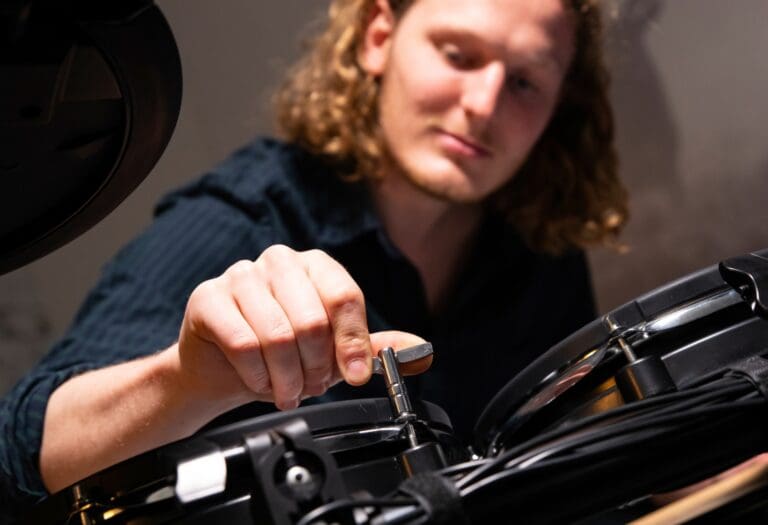 Everything from classic to modern
With about 700 sounds, the MPS-750X is a true chameleon when it comes to sound. From realistic acoustic drum sets and percussion instruments to modern electronic sounds, the possibilities are limitless. The four integrated effects and additional tweaking options provide even more versatility. And the USB interface opens the door to an endless supply of high-quality sound libraries on a computer, and lets you integrate the MPS-750X into a professional studio setup.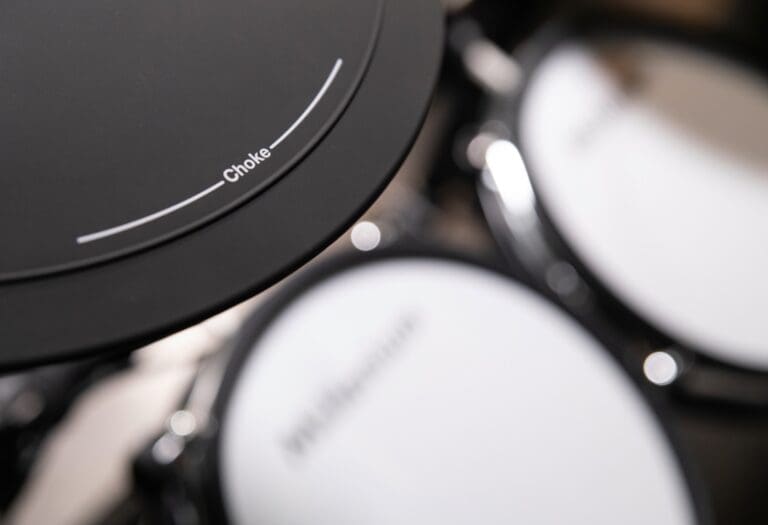 Technical specifications
10″ Two-zone mesh snare pad

3x 10″ Two-zone mesh tom pads

8″ Mesh head kick pad

13″ Hi-hat pad with controller

12″ Two-zone crash pad with choke function

14″ Three-zone ride pad with choke function

MPS-750 drum module
Line Out (L/R)

Headphone output

Line in

USB

2 Additional trigger inputs

Bluetooth
Possible configurations
MPS-750X E-Drum Mesh Set

MPS-750X E-Drum Mesh Se Bundle

Drum throne, Headphone, Sticks

MPS-750X E-Drum Monitor Bundle

Cabling, Drum monitor, Drum throne, Sticks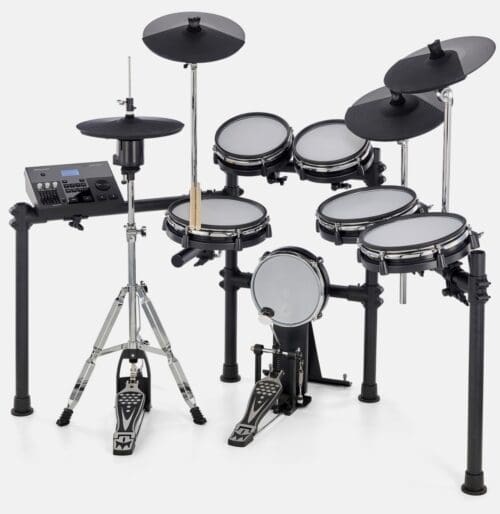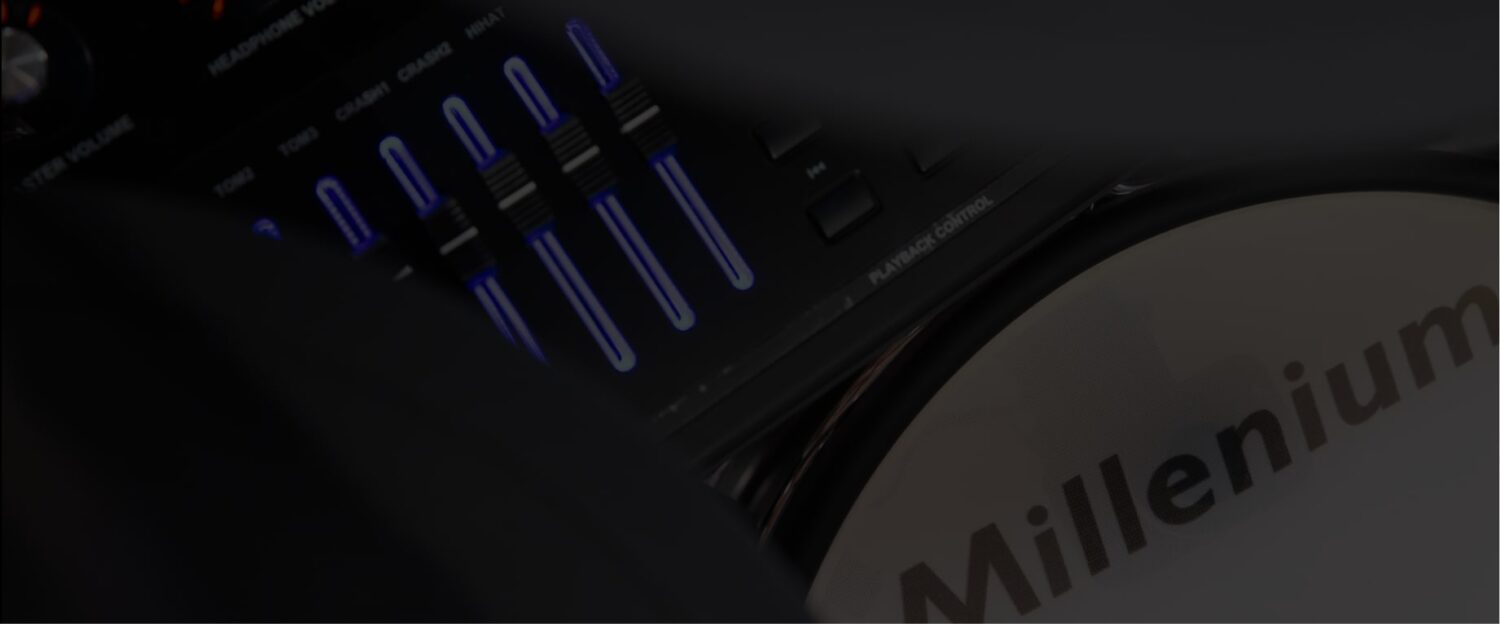 Sound Check | MPS-750X | Standard
Check out this Soundcheck video for the MPS-750X and hear the awesome samples included with the kit.
See All Videos
You may also like these
MPS-1000 E-Drum Set

MPS-850 E-Drum Set

MPS-450 E-Drum Set

MPS-150X E-Drum Mesh Set